Getting pregnant is not easy for many people. In fact, 10% of women in the U.S. suffer from difficulty getting and staying pregnant. Shane and Darlene were part of that 10%. They tried to have a baby for 4 1/2 years without success. The 6th gynecologist they went to finally gave them the right test and noticed that Darlene had polyps that needed to be removed. After they were, Shane and Darlene decided to go through the IUI procedure to help them conceive. The day that Darlene was scheduled to go in for the IUI, her fertility doctor's office called and said that her appointment needed to be canceled… Darlene was finally expecting! She bought a baby baseball glove, a baby hockey glove, and a sweater that said 'Hockey Mom' to surprise Shane with the exciting news
Darlene's pregnancy was a breeze. There was nothing to cause alarm until one day, while at work, she started to feel cramps. They continued to get worse, but Darlene brushed them off, having a high tolerance for pain. Finally, a colleague convinced her to go the hospital. She was reluctant thinking it was just Braxton Hicks. She went home and thought it best if her grandparents drove her to the hospital, as the pain began to worsen … on her way, she knew she made the right decision to seek help.
Darlene arrived at the hospital at 12:45PM and finally after 4 1/2 years of trying, at 2:33PM, August 22, 2018, she delivered a baby boy with the gestational age of 24 weeks and 6 days. His due date was December 06, 2018. The minute they heard the baby cry, they knew that things would be okay. The medical team made the quick decision to transfer baby Vincent from North Collier Hospital to South Miami Hospital, so he could receive the critical care he needed. The transfer team arrived and none other than Doctor Jorge Perez himself, head of Kidz Medical Services, arrived to transfer little Vincent.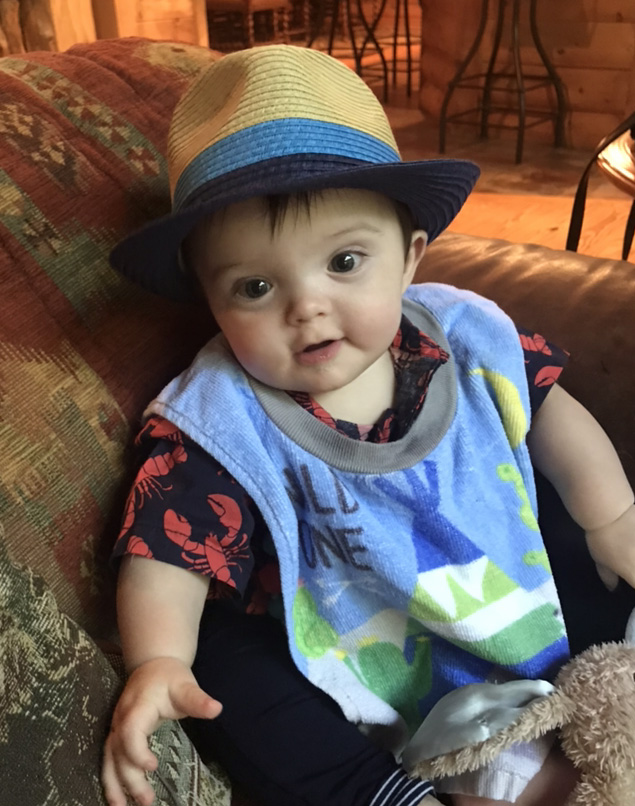 Darlene and Shane's time in the hospital with their son was the rollercoaster parents of preemies often are required to ride out. Vincent developed pneumonia and Ecoli in early October forcing medical teams to temporarily paralyze the baby medically. It was one of the hardest moments during their NICU days that Darlene and Shane had experienced. Many stressful days later, Vincent pulled through. To celebrate, the family participated in South Miami Hospital's Halloween costume contest and won!
December 22, the Biltz family received the most precious Christmas gift … their MVP Vincent was discharged from the NICU and went back home to Naples. Darlene and Shane's advice to NICU parents is that the baby "feeds off of your energy" … "these babies are being strong for us, and we need to be strong for them." "These kids are fighting. They want it and if you are there for them, talking to them, encouraging them to get through, they have a fighting chance."